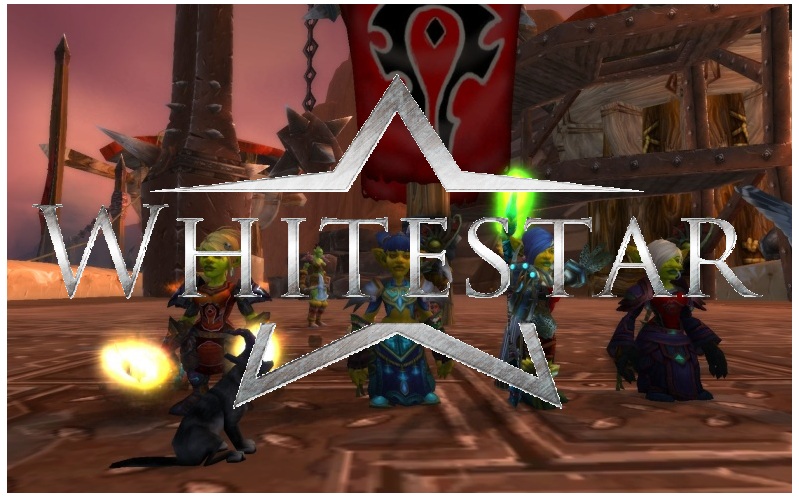 Where are we playing World of Warcraft?

This is a updated list of every Whitestar member playing World of Warcraft and where to find them. If you are playing WOW please, post below your character names, server and guild.

Last Update 9-08-12
Bloodhoof(Eu)
Itslifejim : Xaibari,Yaffie,Kahlee,Desensitized,Formidonis Guild <Lightwalkers>
Defias Brotherhood (RPPVP)
Alakina: Alakina, .... , <Benevolent>

Naiaria: Naiaria, Alisza, Stonekin <Whitestar> / Maitea, Sharlarra

Chakra: Eärwy, Darinx

Aliny: Araxie
Turalyon (PVP)
Feline: Blushe <pretty pony rainbow club>
The Maelstrom (PVP)
Aliny: Araxie <Sparks>, Arda, Aliny<The Who>, Aurélie <The Fun Stuff>
Last edited by Elloa on Wed Sep 26, 2012 7:48 am; edited 10 times in total
_________________
Follow me! : Uberchar - Twitter - WhitestarStream - Youtube - Ladies of MMO
Admin




Posts

: 2864


Join date

: 2009-12-03


Age

: 40


Location

: Belgium



Defias Brotherhood, both horde and alliance, but I'm currently leveling a rogue alt named Sharlarra for lulz :3



Posts

: 463


Join date

: 2009-12-10


Age

: 32


Location

: Kristiansund



Turalyon - Horde

Blushe (85 priest) <pretty pony rainbow club>



Posts

: 63


Join date

: 2012-06-16



The Maelstrom - Alliance
Araxie paladin 85. Arda Rogue 85 and Aliny Hunter 85 and soon I have second paladin called Aurélie. SHES SO TINY NOW!
Defias Brotherhood:
Eärwyn - alliance Shaman, level 85
Darinx - alliance Priest, level 85

Both are dormant right now, but will play them later this year after release of MoP.



Posts

: 296


Join date

: 2011-01-28


Location

: Netherworlds



All my characters are on alliance. Aliny is in <The Who> and Aurelie is in <Fun Stuff>
All chars on Bloodhoof EU PVE. Guild <Lightwalkers>

all on Alliance
Xaibari - Druid
Yaffie - Hunter
Kahlee - Mage
Desensitized - Priest
Formidonis - Deathknight
+others alts I never play





Posts

: 163


Join date

: 2012-02-04


Age

: 38



My rogue is on defias brotherhood. She is BE now and she is called Araxie. oh yea, she is 85
Updated! But maybe you should add (if you wish) your realID. Remember before to do so, that the forum is public.
_________________
Follow me! : Uberchar - Twitter - WhitestarStream - Youtube - Ladies of MMO
Admin




Posts

: 2864


Join date

: 2009-12-03


Age

: 40


Location

: Belgium





Similar topics
---
Permissions in this forum:
You
cannot
reply to topics in this forum