Republic or Empire ?
Whitestar has still not decided which side to rally in SWTOR. The first poll had been estimated unvalid, another one is open, but nothing is done yet.
The poll
is open till the beggining of december, which will let us just enough time to fix our guild before the Phase III : deployement.
So many things to think about : what class do you want to play the most? What kind of story line is attracting you? What race fit your tastes, and what companion will you want to play with? All those elements are giving us hard time to decide! Maybe we will end by having two guilds Whitestar – Darkstar ?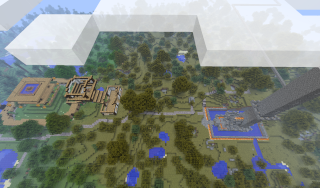 Our Minecraft World
Not so long ago, no one wanted to play Minecraft. But now, several Whitestar members have caught the virus, and our survival server is starting to look nice. Basicly each of us have started a project, invested one area of the map, and we are develloping it, step by step. Amuatama is building towers and underground complexs, Geir has invaded a new continent, alone Vareen is building a giant forteress, Anatael had build some old temple ruins in a swamp while Yima have invested a pine forest, and I try build my Monastery of Abondance and Relaxation...It obviously take time, and ressources, but Minecraft can be a very relaxing, and a very addictive game.
Stay tuned
to see the advancement of our map. Soon I'll be making a movie, and take new screenshots!
Tera soon in alpha!
Finaly some good news!
(click here!)
We were starting to get depressed with the release delayed to spring 2012, and the hype was droping day after day. But now, we do know that the alpha will be started soon, maybe some of us will recieve a key in our mailbox! The list of participants had already been made, we are just waiting for our Community Manager to share it publicly!
Time to rethink about the class and the race we want to play the most. This is also a very though choice for some of us.
While waiting for more infos, enjoy this video made by Envyfea. Or you can write a story for the first A2Tera fanfiction competition! The best story will be published on A2Tera website!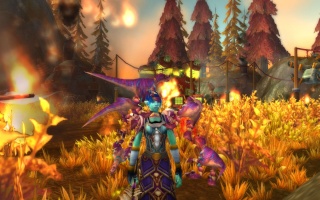 World of Warcraft
If the guild Whitestar had been declared unactive in World of Warcraft, some of our members are still playing faithfully the giant of all MMO. They gather achievements, mounts, and progress in Fireland. This have convinced some other whitestar to return in World of Warcraft the time to wait for other games to come. For the Horde, this time!
Last edited by Elloa on Sat Oct 29, 2011 10:06 am; edited 2 times in total
_________________
Follow me! : Uberchar - Twitter - WhitestarStream - Youtube - Ladies of MMO

Similar topics
Sávian wrote:And, of course, for the Dark Lady!
That would be me!
xD

---
Permissions in this forum:
You
cannot
reply to topics in this forum