I've written this article for
Ladies of MMO
, a community who, despite of the name, also welcome guys!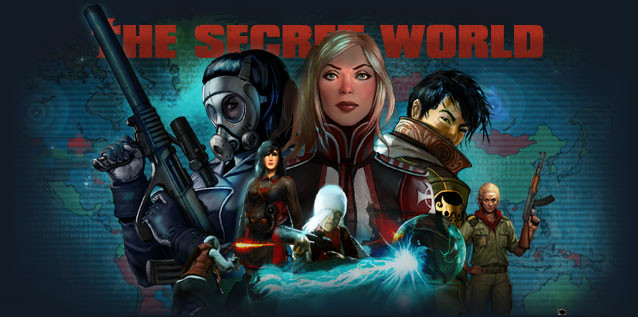 Why I'm playing The Secret World?
Introduction
To put the reasons that made me start to play "The Secret World" in perspective, I need to explain my situation.
I met my boyfriend in World of Warcraft some years ago, and since we stopped to play that MMO, we had huge difficulties to find a game that could replace it. We played Aion, Rift, Age of Conan, Star Wars The Old Republic, and Tera together, and it always ended the same way : after 1 or 2 months my boyfriend grew tired of the game very fast, play with me only when I beg him, and I end alone and frustrated. After 1 more month, I end by abandoning a game I like, praying that the next one would be THE one.
We were playing Tera together when The Secret World released. It was already hard to get him play Tera with me, and when he started to be interested by TSW, it kinda upsetted me.
How I started
I don't like zombies. I don't like the modern setting. I don't care about guns. I don't care about Lovecraft, I have never read one of his books. And I'm playing Tera. I'm a real Tera fan. The Secret World was, in my eyes, a vilain competitor to my dearest game. I had a lot of negative prejudices against the game.
But, I decied to be a nice girlfriend and to give it a try. I even bought the game for myself, so we could play together. I played a bit and found the game more fun than what I expected. But I wasn't convinced yet. Kingsmouth was depressing and cold, and filled with zombies. The combat felt clunky. I was also dying to much for my taste. Where were my pretty Elin? The colorful and fantastic landscape? Why did I have to tab target again my victims?
And then, after two evenings of gaming, something arround 8h of gameplay, the magie operated. I can not really explained why or how...but suddendly the game hooked me. And I started to love every bit of it!
What made me love the game.1. Immersion:
I migth dislike the modern world and zombies, I ended by getting attached to Kingsmouth, its Police Office, its Main Street, its harbour and the foggy promenade. The world feel realistic by thousand of little details : old newspapers flying in the streets, commercials painted on a wall, a children play ground, garbage in the backyard of a restaurant...The world felt living its own life. And the atmosphere, the day and night cycle, the light, the weather, none of those things couldn't let me indifferent.
The immersion sometimes was so well made, that a sensitive and superticious girl like me was unable to complete some "horror" quest (haunted house and the like) while beeing alone in my house by night. Was just...too much! Needed the daylight, or the company of someone to dare to go in that damn attic!
Could not quest alone there, it was too creepy!
The voiceover of quest are really well made. The characters have colorful personalities, their dialogues are finely written, with a hint of humour, may it be a chuckling mecano, a old and lonely widow, a rebel part of an Egyptian organisation.They seem living their own life and we simply witness a small piece of it.
I loved Star Wars voice over and stories, but I found The Secret World character more deep and more "spicy". Also, all those reference to our modern world serve as inside jokes between the players and the game. It make us smile, and feel complice with TSW creators.
The quest themselves are also very immersive. It's only possible to take one "main" quest at the time, and three "side" quest. So, when I'm buzy on a mission, I've to focus on that one. And I'll not lose track of the story, or the reasons why I'm gathering mushrooms in the forest. I know why I'm doing what I do. The stories are meaningful.
The quest are build in several steps. If I need to gather eletronical equipement to improve the security of the Police Office, I firstly need to check in the phone book the adresses of different shops. I can not simply and blindly follow the sparkling dot of the map, and go there. Once I've the adresse of the Gaz station, for example, I still need to find a way to get that camera on the roof.
It create a real feeling of adventure. And if it can already be exiting in the foggy Salomon Island, wait to travel in Egypt and wonder to find clues in temples in ruins lost in the desert!
In this quest we had to recruit 4 guys. We were running everywhere in the streets Al Merayah to find them. Here, we simply ring the bell of a house. Will the guy answer?
2. Freedom:
No class, no level, quest repeatable. I feel free to choose to play how I want.
Even with only two weapons I feel there is hundred of possibilities! Each weapon give access to skill and passives that I can buy with my ability points. I love to play with builds. I'm starting to have fun selecting a combinaison of passives and skills very early in my character progression.I improve my "spec" along my adventures, switching one ability for another along the needs. Step by step, I understand the mechanism of weapon synergies better, and it's a real pleasure to figure out a combination that no one have think about before.
Quest are repeatable. I can play when I want and do what I want. This haunted house scare me too much? Nevermind, I'll re-do some quest in the Academie, and I'll gather enough skill point to get my new shotgun and join a group for Inferno dungeon.
My friends can play with me, no matter our level difference, the Secret Society we have choosen, or the server where our character have been created on. A simple click and we meet up. If my friend is too high level, he can switch for new weapons and I'll not have the feeling that he is carring me through my area. He will get as much reward for completing again those quests : Ability Point and Skill Point that he can use to improve his builds. And the low level items can be transformed into crafting materials.
The game feel extremly flexible, with few restrictions.
3. Innovation:
The Secret World have amazed me on many points. It feel fresh, new, innovative. It feel like the devellopers have really think about what was fun in a MMO and what was boring in a MMO before to create their game.
Three factions, yes. But why separate friends for choosing a different faction? All PVE content : quest and dungeon are doable together, no matter what Secret Society we belongs to. The Secret Society only matter for PVP.


PVP is also well though, removing the most annoying aspect of it, and keeping the fun. PVP is only instancied in battleground, Fights Clubs or PVP zones. There is no gankers in The Secret World! But those that really enjoy PVP alot have many possibilities. In addition, everyone get the same gear. PVE progression do not matter for PVP. Someone can start PVP right away, and still earn ability and skill points that way!


The Templar PVP gear is inspired by Venician mask.


One, big, giant, international server subdivided into several dimension. That mean I can team up with my friend even if I'm on Arcadia, and he is on Cerberus.
There is players all day and night long as everyone play together, no matter the region and the time zone. The game feel active, vibrant, living no matter when I log in! And I can finaly group with my American friends!


No level will allow me to group with anyone. We do not need to wait for each other to play together. One can play a lot and the other play less, its still possible to group up and do stuff together.


And the Dungeon are only pure fun! No trash mobs, only a succession on interesting bosses in a picturesque environement.
4. A profound game
The Secret World is the first MMO who focus in our real time. I though it would bore me, considering I already find not very fun to have polution, wars and everything else in our real world. But it has been made in a way that enhance a realistic side with magic, fantasy, mysteries, myth. It's filled with references about what we are, and put our world, our reality, our traditions in perspective.
Through the dialogues, the storie lines, the quests and in particuliar the investigation quests, The Secret World offer us a time of reflection about ourselves, lead us to investigate our culture to find clues, and remind us old legends we may have forget.
In a way, The Secret World is a celebration to our Humanity, subtly denouncing the darkest aspect of our society with love, and brushing a picturesque patchwork of humankind cultures.
I do not have the feeling to lose my time when I play The Secret World. I've the feeling to have an occasion to explore another side of my own world.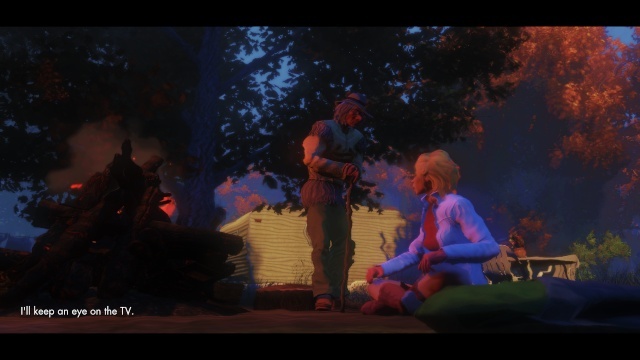 A psychedelic experience along a Native American shamanistic ritual can be the door for a dungeon in The Secret World.
5. A game that doesn't treat us as idiot!
Anarchy Online was the first MMO I ever played, The friend that drove me to play it told me this "
The fun part of this game, is not only the game, but to discover, to figure out, how it's working.
"
Funcom games have that. They are more complex, more subtil, more deep than a usual games. It take some times to fully understand how the game itself is working.
It feel like The Secret World is a game made by gamers for gamers. It feel good to be treated as persons that possess a brain. In this game we will have to think. May it be the elaboration of a working build, or solving a difficult investigation quest.
I've been amazed, and very pleased to run my second dugeon, and to actualy encounter bosses that requiere real tactics. I wiped! And I was happy about it!
I've not played enough yet to try the endgame, aka Nightmare mode. But it's well known that they are really difficult. The Secret World is not a game that pretend to be challenging to flatter the players ego. Sometimes it's
really
difficult.
6. I've faith...
I've faith in The Secret World's future. It migth be not the best success in term of sales, but I don't see how this game can go wrong. The creators are visibly passionated and creative devellopers that do not hesitate to take the risk of making something different. I hope they will be rewarded for this!
In addition, the system of the game in itself seem to be flexible enough to allow regular update. Instead of growing in a vertical path of progression like MMO usually have (leveling from 1 to end game, then different tiers of gear to progress in raids), The Secret World have a horizontal path of progression that will allow a wider expension and more possibilities.
I'm extremly pleased about the monthly update plan. I believe it will hold fans, and encourage new players to join. It's exiting to have something new, even just a few quest, on such a regular basis. It give the feeling that the game will continuisly evolve.
I also love this weekly live stream hold by the Funcom crew and the way the Community Manager are reading and answering post on the forum : with humility, simplicity and honnesty. It give me the feeling that the team really care about the success of their game in the really meaningful way : that the game please the players. Not only the buisness plan of the society. They are actively listening to feedback, and want to share their enthousiasm, and their love for the game they have created.
Funcom Livestream
I realise that I sound like a fan girl. Well...Two month ago I wasn't. I had much prejudices against the game, and I planed to dedicate my gaming life entierly to Tera.
I've been convinced by this game while not beeing particuliarly interested by its "selling point", such as the modern universe, the combat system, etc...And the fact that I've been convinced and hooked by the game while having such a negative disposition must mean something....Maybe, it's a really really good game!
And you, why are you playing The Secret World?
Feel free to answer on Ladies of MMO, if you like
here
_________________
Follow me! : Uberchar - Twitter - WhitestarStream - Youtube - Ladies of MMO
At least now i know what they meant by switching dimension when Cerberus had serious lag troubles on the free to play weekend.

Thanks for making this review and stating your opinion concerning TSW, was fun to read this huge post of yours!


---

This may make paint me as a "negative" person after all the positive things Elloa listed but i have to add a few points to the list which in my opinion are "bad" and have a huge impact on the gameplay. Only played TSW for 3 days but it was something i couldn't shake of my mind.

Firstly the balance of the factions, in my case i wanted to try Dragon. After gathering info about it on various sites it seems most servers are "dominated" by either Illuminati or Templar, mostly Illuminati. Cerberus was more or less the only server i which Dragon had a chance of being part of the play. As you might all know unbalanced sides in PvP is a bad thing but not uncommon.

Secondary the faction domination reward buff, if you can call it that. It's more or less the same system that was used in Warhammer. After capturing a specific area you gain buffs(increased XP, HP, damage, resists and more) which everyone of the same Race/faction gets. Well its not bad getting rewarded for PvP but in this case (TSW) the already dominated factions will have it even harder. Not only in PvP but also PvE especially if the ones already dominating from the start get a 12%-20% more EXP buff (that exp only, there are a lot of other benefits from the buff | total of 8 areas, 3% for each and holding 4-5 of them at the same time isn't uncommon).

And lastly the motion stiffness and targeting. Well after playing Tera its a given that compared to "free-style" targeting, tab-targeting feels like a pain and makes it hard to get any flow against multiple enemies even if you have a lot of AoE skills. The stiff movement and animations of your character is also something you will have to get used to again, also a tiny bit annoying to watch :/. Its something a "realistic world" like TSW should improve.

I hope this criticism doesnt scare some from trying the game at least. Like Elloa said above it has some great features but also flaws.


A.O.D




Posts

: 367


Join date

: 2011-08-23


Age

: 36


Location

: Sweden



Thanks for your feedback. This is an aspect (The PVP balance) I've really not paid attention, so it's nice to precise it.

It all depend of what matter for you, when you play a game. I know that the devellopers are working on the "PVP zone" (the only part of the game strictly bound to your dimension that will earn your faction some buffs). Because it's not working as intented. They aknowledged in teh LiveStream I've seen that it's their fault, and they want to find solution to make it works according to their original plan.

Personaly, I really do not care. I've tried to PVP in TSW, just for fun, but as you have already noticed, PVP is certainly not something I'm taking seriously. In addition, I suck so bad myself to not pay attention to any kind of faction inbalance. My faction is imbalanced to have me on their side anyway :p
_________________
Follow me! : Uberchar - Twitter - WhitestarStream - Youtube - Ladies of MMO
Elloa wrote: My faction is imbalanced to have me on their side anyway :p
Lol Elloa. <3

A.O.D




Posts

: 367


Join date

: 2011-08-23


Age

: 36


Location

: Sweden



Similar topics
---
Permissions in this forum:
You
cannot
reply to topics in this forum