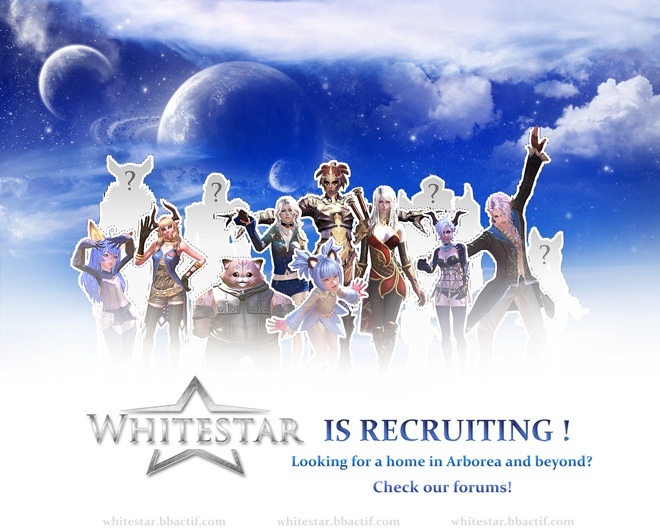 Name : Whitestar
Server : Essenia (beta) – Unknow PVP server (release)
Goal : social + end game PVE + World PVP + Vanarch
Future Members : aiming for 30
Recruitement : OPEN
Our Tera project
As of now, We are not in a big need of Mystics, Priests and Warriors. However this does not mean that we won't accept those classes.
Our Ambitions:
Social : Whitestar is before anything else a community. The social aspect of our guild is our priority. We will organize regular guild event for the pleasure of playing together. As a social guild, we will let each member enjoy the game and level at its own phase

PVE : We aim to at try every PVE part Tera has to offer. At the moment it is too soon to say how much until the game is actually out. But PVE will be a big focus for us.

PVP : We have no ambition of dominating the PVP scene in Tera. But we do intend to participate actively in World PVP, and other wild skirmishes or guild wars that will happen. For the pleasure of a great fight.

Politics : We aim to try the Political system and run for Vanarch in one region. How this will be done however, is only known to our members as of now.

Alliance : Whitestar and Sleeping Forest allied up in the start of March 2012. This will be a alliance where we help each other out in whatever part of the game. But we do not follow each others rules.

Ranks
Guild Master : Acharial

Officers : Elloa, Majiinfreddy

Members
Whitestar is recruiting!
What we have to offer you
Whitestar is a community, meaning we exist through out many games.
Some we decide to focus on as a Guild, other we play as individuals or small groups.
It's all about what you want to do with us, we're mainly on board with most ideas.


Since we exist in so many games we offer "a place to call home".
Many of us teamed up in the Warcraft days and have been playing together ever since.
These are people who started out as normal "characters" in a game, but today we look upon each other as friends.
We offer you a chance to be a part of this friendship, this idea, this community.


A democracy where your voice is heard among the members.
Each decision is based upon the members here, and we vote on what our future will be like.
What we want from you
Whitestar doesn't really require any special skill or experience from you.
However we don't accept just anyone into our Community, we wish to meet like-minded people who fits into our home.
We want you to be a mature person, but to still be a child at heart.

We want all ours members to be 18+. If you are younger there is always a possibility but you will need to make us see it.

We expect you to be an active member that brings interest and enthusiasm into what we are doing.
Want to be part of our community?

Follow us!!


Whitestar is a community active on different media! Follow our adventures :

_________________
Follow me! : Uberchar - Twitter - WhitestarStream - Youtube - Ladies of MMO
Similar topics
---
Permissions in this forum:
You
cannot
reply to topics in this forum