We almost all agreed in
to create a guild for SWTOR! This guild will gather old World of Warcraft members, old friends, and the new future Tera guild. The enthousiasm is rising like the tide, and we will have a very motivated group!
Aliny
(also known as Murhamies)
is the responsible of the project, as it's really him the first one who wanted to play SWTOR, and who, indirectly convinced others to join him in the universe of Star Wars. Aliny had been officer in Whitestar-WOW.
We have already saved our guild name on the official SWTOR website. You can find
Whitestar
on the Republic side. But we also have saved
Whitestar on the Empire side
in case we vote Empire, and
Darkstar
in case we play both side on the same server.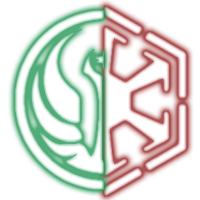 We are still discussing which side the guild will settle : Republic, Empire? The discussion in going on, even if the Republic got an advantage for now. You can find the poll
here
.
We are also struggling to choose our future classe. The choice is more difficult as it seem. Not only you need to enjoy the gameplay of your class, but also the background need to fit your personality as each class got its own storyline. The class poll can be found
here
We are also hoping to be choosen for the beta test. In Whitestar, we have several members with a long experience as gamer and beta tester, and some are even writters for the blog
See you soon in space!
Last edited by Elloa on Fri Aug 19, 2011 3:28 pm; edited 2 times in total
_________________
Follow me! : Uberchar - Twitter - WhitestarStream - Youtube - Ladies of MMO
Similar topics
I'll keep a beady eye on your guild in TOR. If I don't find an exciting project on a french server, I would join an english RP-PVP server.

See you

Barakha, aka Fauvette on WoW - Conseil des Ombres
Fauveeeeeeettttte !!
There is nothing exiting on french servers, really... Come here already and enjoy your gaming time in a european atmosphere. You will not regret it !! *wink*
Oh, Barakha, that avatar is very... recognisable..

the name 'Xan' doesnt mean anything to you does it?

Or is it a coincidence..
Sorry, Athimahri, I don't remember this name (maybe except a Xandis).

I promise you I'll change my avatar when I can have a picture of my TOR character in game.
Nah its ok Barakha - I have just seen it used in other forums is all.
---
Permissions in this forum:
You
cannot
reply to topics in this forum